To what extent does Medicare cover COVID vaccinations?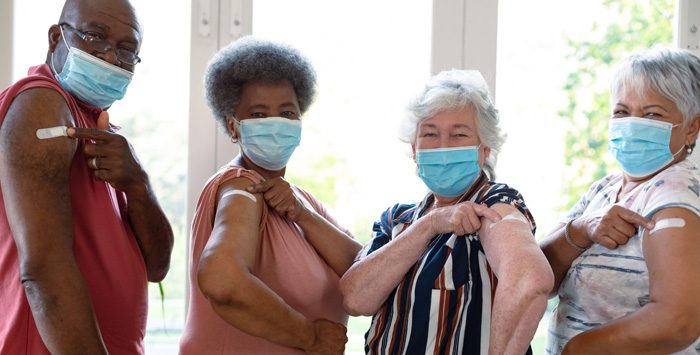 Image: wavebreak3 / stock.adobe.com
COVID-19 has changed healthcare in the United States and around the world. Medicare, in particular, has adapted to the pandemic by increasing access to testing, treatments, and preventive measures like vaccines. Unfortunately, that coverage is not all-inclusive and some people may not be able to access all the services they need or want.
That is especially true when it comes to vaccines. In response to new variants and the availability of different vaccines, CDC guidelines continue to evolve. It can be a challenge to keep up with all the changes!
This FAQ will address what vaccines are available to you, when you can get them, how many doses you can get, and what they will cost.
Does Medicare cover the primary series of the COVID vaccine?
Medicare covers the primary series for vaccines that have been vetted by the FDA. At this time, there are three vaccines available for use in the United States. The Pfizer and Moderna vaccines have been granted full FDA approval. The Johnson & Johnson (Janssen) vaccine remains under an emergency use authorization.
It is important to understand what constitutes a primary series. For most Americans, the Pfizer and Moderna vaccines are given as two doses separated by three to four weeks. The Johnson & Johnson vaccine is given as a single dose.
Some people may not be able to mount an adequate immune response with the traditional primary series. It could be they are immunocompromised from a medical condition or from medications they take. In those cases, they may be eligible for an extra dose in their primary vaccine series.
A third dose of the Pfizer or Moderna vaccine can be administered within 28 days for the two-dose series and is covered by Medicare. Additional doses have not been recommended for the Johnson & Johnson vaccine. If you are immunocompromised and need a third dose BEFORE the booster, that is also covered at 100%.
Does Medicare cover booster shots?
As of February 2022, a booster shot is being recommended for Pfizer and Moderna after five months and two months after J&J. That said, people who are immunocompromised only need to wait 3 months for a Pfizer or Moderna booster. All boosters are being covered by Medicare and Medicare Advantage at no cost to the Medicare recipient.
Medicare is going to pay for the booster, no matter which manufacturer it is. Boosters with Pfizer or Moderna vaccine are preferred, regardless of the type of vaccine you got for the primary series.
How many vaccine doses does Medicare cover?
The number of doses of vaccine you get will vary based on your medical history and the specific vaccines you get. If you completed Pfizer or Moderna as a two-dose primary series, you are eligible for a third dose as a booster. If you are immunocompromised and completed a three-dose primary series, your booster shot is an approved fourth shot. Simply put, if your doctor recommends four shots due to illness, you are covered for four shots.
If you receive the Johnson and Johnson vaccine as your primary series, whether or not you are immunocompromised, you are covered for two doses of vaccine.
As recommendations change, on both federal and state level, it may take a few days for the computer systems and staff training to catch up, so be patient for a few days after big announcements.
Does Medicare cover all vaccination costs?
At this time, Medicare beneficiaries can get their COVID vaccines for free. That means you will not pay a deductible, coinsurance, or copay for the vaccine itself, administration of the vaccine, or the visit for the vaccine (as long as the visit was not for other reasons).
Will Medicare cover COVID vaccines for free after the public health emergency ends?
Right now the United States is under a Public Health Emergency (PHE). Medicare beneficiaries will continue to get COVID vaccines for free. This is the case whether they are on Original Medicare or a Medicare Advantage plan.
Once the PHE comes to an end, this could change. Traditionally, Medicare only covers FDA-approved treatments and not treatments under an emergency use authorization. At this time, only the Pfizer and Moderna vaccines would be eligible for coverage.
The question is whether these vaccines will be covered by Medicare Part B, like influenza and pneumonia shots, or if they will fall under Medicare Part D coverage, like the shingles shot. As long as your healthcare provider accepts assignment, Part B vaccines will not cost you anything. However, you should expect cost-sharing if these COVID vaccines are put under the Part D umbrella.
---
Tanya Feke M.D. is a licensed, board-certified family physician. As a practicing primary care physician and an urgent care physician for nearly ten years, she saw first-hand how Medicare impacted her patients. In recent years, her career path has shifted to consultant work with a focus on utilization review and medical necessity compliance. She currently works as a physician advisor at R1 RCM, Inc., where she performs case reviews for hospitals nationwide.
Dr. Feke is an expert in the field, having Medicare experience on the frontlines with both patients and hospital systems. To educate the public about ongoing issues with the program, she authoredMedicare Essentials: A Physician Insider Reveals the Fine Print. She has been frequently referenced as a Medicare expert in the media and is a contributor to multiple online publications. As founder of Diagnosis Life, LLC, she also posts regular content about health and wellness to her site at diagnosislife.com.