Since 2011, we've helped more than 5 million people understand their Medicare coverage.
Find Medicare plans that fit your needs.*
Enroll in a plan today.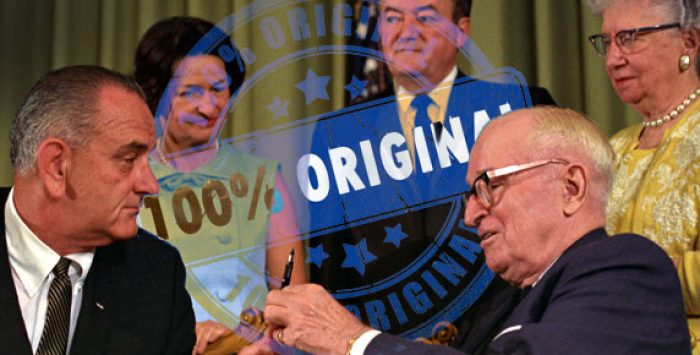 What is Original Medicare?
Nearly 34 million people have Original Medicare (Part A and Part B). Here's a look at the benefits of 'traditional Medicare.'
Original Medicare vs. Medicare Advantage
Choosing between Original Medicare and Medicare Advantage is a big decision, and there's no right or wrong answer. But there are several points to keep in mind in terms of how they compare:
Original Medicare:
Original Medicare can be used anywhere in the U.S., as long as the provider accepts Medicare.
Patients and their doctors generally do not need to obtain prior authorization for the majority of services.
Coverage is the same (premiums and out-of-pocket costs) everywhere in the country.
Original Medicare does not have a cap on out-of-pocket costs, so supplemental coverage is recommended. (A Medigap policy may be able to pay nearly all of the out-of-pocket costs that go along with Original Medicare.)
Original Medicare does not cover prescription drugs, so separate drug coverage is recommended.
Original Medicare does not cover routine dental, vision, or hearing care that is not associated with other medical services.
A combination of Original Medicare, Medigap and Part D can result in coverage with less out-of-pocket costs. But the premium for this combination might be more than the premium for Medicare Advantage, especially if you select one of the more comprehensive Medigap plans. (See example premiums here.)
Medicare Advantage:
Plans may have localized provider networks, and may require members to stay in-network.
Plans often require prior authorization, although CMS has finalized new rules to limit this in an effort to minimize situations where care is limited or denied.
Plan availability and benefit designs vary from one location to another.
Out-of-pocket costs cannot exceed $8,300 in 2023, for services that would be covered by Medicare Parts A and B. (Note that this limit does not include the out-of-pocket cost of most prescription drugs, as those aren't covered by Part A or B.)
89% of Medicare Advantage plans include prescription drug coverage in 2023.
97% of Medicare Advantage plans include at least some coverage for dental, vision, and hearing care in 2023.